Inground pool installations in Canada - similar to the U.S?
Most people might be surprised to learn that our neighbors to the north have almost as many pools per single-family home as in the U.S!
Between 6% and 7% of single-family homes have an inground pool, making per capita pool ownership comparable in both countries.  And while it gets much colder for much longer in Canada, most Canadians live in its southernmost regions. So, while the average annual temperature throughout the entire country is 22.4 degrees Fahrenheit (compared to 47.4 degrees in the U.S.), the average yearly temperature in Toronto, a primary Canadian pool market, is 48.7 degrees. 
Conversely, the largest U.S. pool market, Los Angeles, enjoys a somewhat warmer average annual temperature of 62.8 degrees. New York, a top-five pool market, averages 55.9 degrees annually.
​Except for Vancouver, BC, the map demonstrates the concentration of residential inground pools in the eastern corridor of Canada. Toronto and Montreal lead all other metropolitan areas in terms of total existing inground pools.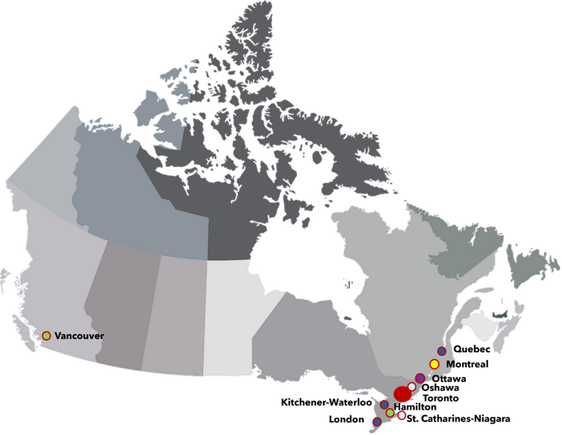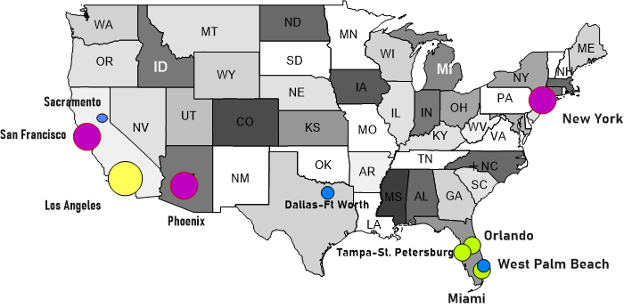 The largest concentration of inground pools in the U.S. is primarily concentrated in the sunbelt states of California, Arizona, Texas, and Florida. Again, not surprising with the warm year-round weather. 
Pandemic Fueling Homeowner Residential Pool Requests
Both countries experienced phenomenal demand for new residential pools during 2020, and it has not slowed down in 2021. Many builders we interviewed are already booked with projects through 2022.
During the pandemic, many consumers confined to their homes turned their focus and dollars on improving their homes and yards. As a result, demand for new pool construction and aboveground pools was off the charts.
While the new construction curve in the U.S. is much less volatile, the U.S. has many new pools. Before the pandemic, average annual growth for both countries had been listless: less than 4% since 2011. 
While no one could have predicted the resurgence in pool construction during 2020, pool building will remain strong over the next few years with pent-up demand and consumers' changing focus on amenities for their homes.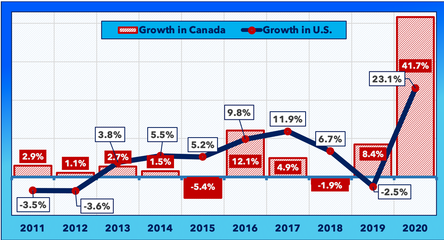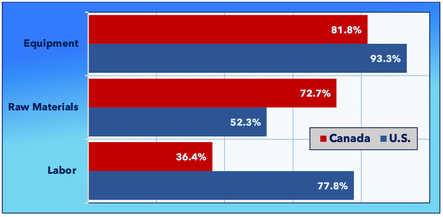 However, both countries experienced considerable repercussions from the effects of the pandemic. Due to mandatory governmental shutdowns, builders had substantial issues with access to pool equipment, raw materials, and labor in both countries following the initial delays with permitting. As a result, the average lead time from pool contract to completion was delayed significantly in some areas.
The Future of Residential Pool Construction
Forecasting is perilous, especially in the pool industry. Who could have predicted a pandemic would revive the pool business? In addition, weather, natural disasters, and the economy can significantly impact pool construction during any year. 
But, barring any other significant unexpected circumstances, the forecast for new pool construction in the U.S. and Canada for the next five years (2021 – 2025) is favorable.  However, builders will need to become more efficient in all aspects of their business, from time management, contract development, materials acquisition, and labor utilization, to successfully achieve maximum return on the increased construction opportunities presented.
Need more detail?  Check out the YE2020 US Residential Swimming Pool Market Report and the YE2020 Canada Residential Swimming Pool Market Report.