Are water restrictions on pools and hot tubs effective measures against drought?
The U.S. Drought Monitor reported that as of December 2022, more than half of the lower 48 states are experiencing drought conditions, representing "a moisture deficit bad enough to have social, environmental or economic effects." With the ongoing drought, water conservation plans are developed and implemented at local and state levels to combat the adverse effects of water scarcity.
However, many jurisdictions quickly jump to legislation limiting new pool construction and filling of pools when faced with ongoing water shortages, mistakenly believing that pools and hot tubs use excessive water. However, studies have shown that filling a pool uses significantly less water per day than an irrigated lawn. Therefore, restrictions on water utilization for pools and spas do not achieve measurable water savings nor significantly reduce a drought's impacts.
We'll take a more in-depth look at two states hit hard by the drought and with a significant inventory of pools and hot tubs in the U.S.
California
The map below illustrates the impact of the ongoing drought in California. And with the state home to more than 1.2 million residential inground pools and 1.4 million hot tubs, water use in both segments becomes a significant talking point in reduction strategies.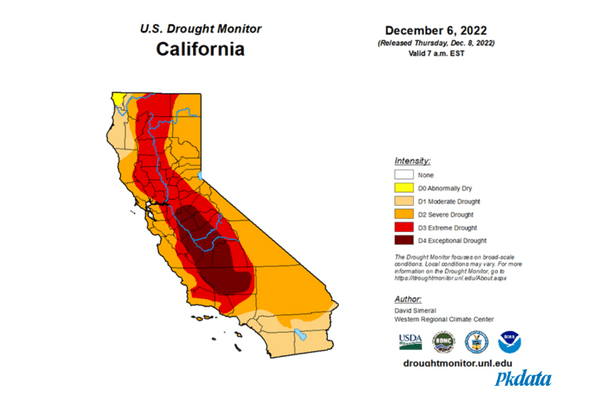 However, a recent study of water use in swimming pools prepared by the City of Sacramento concluded that lawn irrigation use equals 49 inches per year and that swimming pool requirements are 39.6 inches per year, less walkway and decking areas equal to the actual pool area, which reduces total pool water use to 20 inches per year.
(Source: "Analysis of Water Use in Swimming Pools" by Gail Bash, General Manager, Arcade Water District, Sacramento, California.)
Texas
Texas, home to almost half a million residential inground pools and half a million hot tubs, has also implemented various watering bans in 2022 to combat the drought in its state.
However, in response to proposed restrictions on the construction of new pools, a recent study by Pkdata demonstrated how insignificant the amount of water used to fill new pools is compared to overall water utilization in the state.
A sample of our findings includes: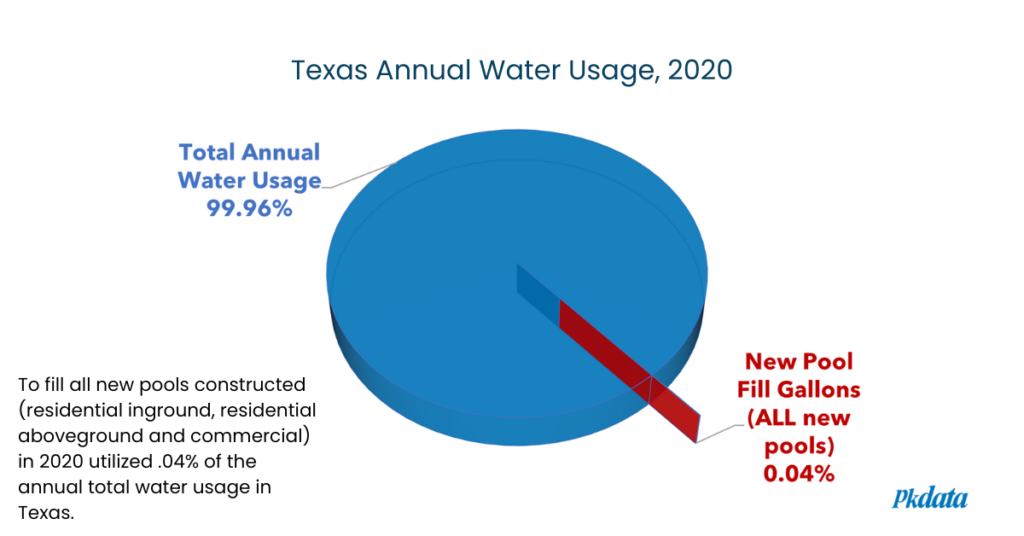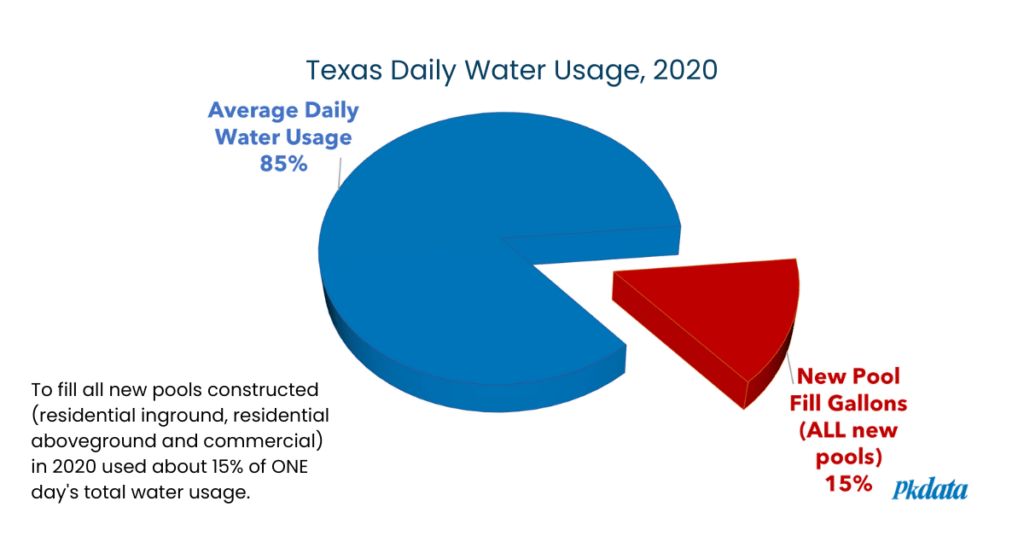 Or in hourly terms, filling all newly constructed pools in 2020 took about 4 hours of ONE day's total water usage.
While drought and water conservation are critical issues, providing an accurate accounting of the actual water usage of recreational water sources like swimming pools and hot tubs is essential. Another crucial factor that must be considered is the significant economic impact of the swimming pool and hot tub industries, especially in warm states like California and Texas.
New pool construction and installation was a billion-dollar industry in California and an almost $700 million segment in Texas in 2020, contributing significantly to the economy and jobs for both states. Legislation impacting new pools and hot tubs must be carefully studied in light of the limited water conservation that these restrictions provide and the possibly devastating economic impact that limitations could trigger.
* The U.S. Drought Monitor is jointly produced by the National Drought Mitigation Center at the University of Nebraska-Lincoln, the United States Department of Agriculture, and the National Oceanic and Atmospheric Administration. Map courtesy of NDMC.
If you'd like more information about the economic impact of the pool and hot tub industries and water utilization, please reach out to Christine Snelgrove.