Our last trade show season was a remarkable one for Pkdata. With COVID restrictions being lifted, we decided it was time to get back on the road.
       BUT HOW?
My wife Carolina and I decided to buy a 38 ft RV (that we've nicknamed Goldi) and then to drive to as many trade shows as possible (and see a little bit of the country along the way!). After mapping out all the shows, we left Georgia and headed to the first location on our 5-month tour.
The first tradeshow began in Charlotte, NC, at AQUA Live in October. We were certainly happy to see it back in action and were impressed with the variety of sessions and useful themes.  The sessions featured a stellar lineup including Brett Abbott (Pool Builder Marketing LLC), Lew Akins, Dr. Bill Kent, and many others. 
Thank you, Scott Webb and everyone at AQUA Magazine, for the wonderful experience and we hope to see everyone again this year in Las Vegas.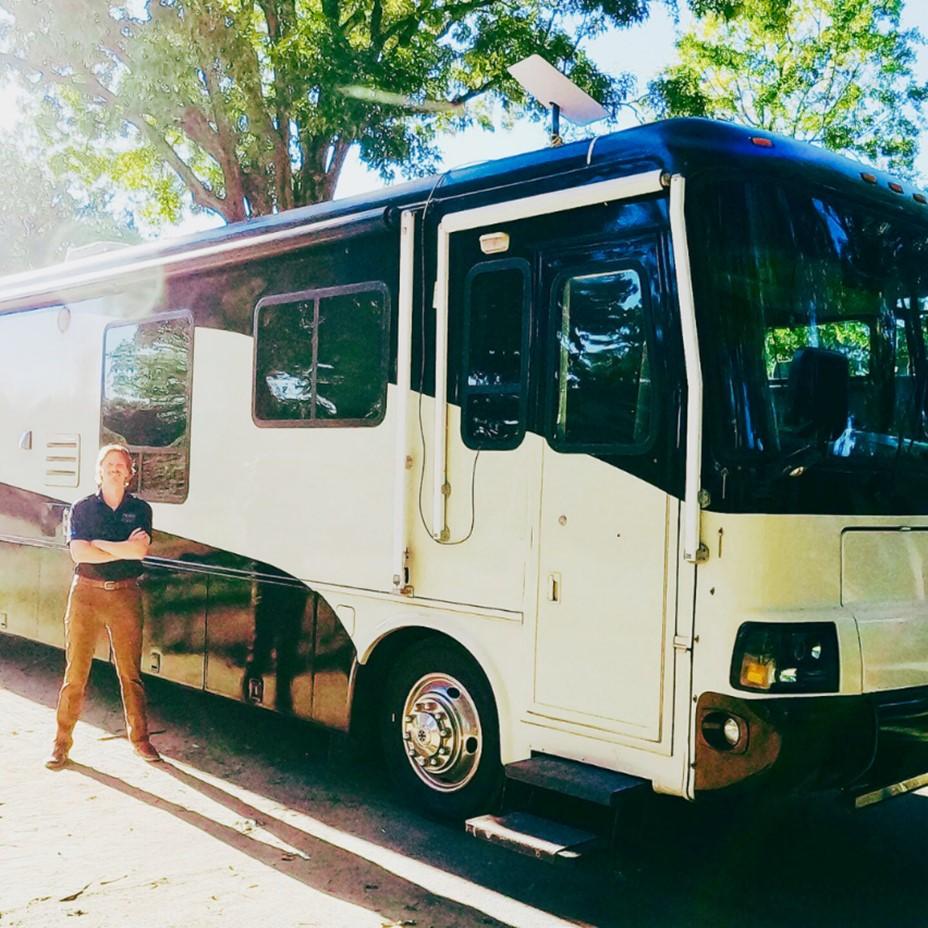 Our second tradeshow was WAHC in November in Houston, TX. There we discussed water safety, drownings, child swimming support programs, and the commercial pool sector. The event was eye-opening, and as a company driven by data, we were excited to discuss the data presented. The event inspired Pkdata's new department that focuses on research around water safety, drowning prevention, and water as a source of therapy.
We met Rudy Stankowitz (Mr. Entre-POOL-nuer), of "Talking Pools Podcast," who studies water chemistry and is one of the most well-informed humans on the planet when it comes to black algae. We also met Olympic gold medalist, Rowdy Gaines, and heard him talk about his initiative with PHTA called "Step Into Swim," – if you haven't heard of it, check it out here. And some other interesting people – shout out to Craig Sears (of Sears Pool Management) and Kevin Post (of Counsilman Hunsaker). They discussed some important topics in the public sector, such as the labor shortage of lifeguards and the rebound of commercial pools around the country.
Trade show number three was the annual PSP/Deck Expo 2022 (International Pool Spa Patio Expo) in Las Vegas in November. As expected, the show was spectacular. The Keynote: CEO Panel was one of the best I've ever attended, and the "Breakfast of Champions" was a brilliant idea/learning experience.
For our fourth show, we ended up back in Houston in February for the Southwest Pool and Spa Show. We were pleasantly surprised at the turnout. The show was well organized, and most of the big manufacturers were represented. IPSSA and other representatives of the Service industry played an important part in the event. We saw many familiar faces and went to some excellent classes.
Our last trip during trade show season was Carecraft in February in Marco Island, FL. Carecraft lived up to the hype and MORE. It was an incredible experience that presented the most networking opportunities of any show. Also, we enjoyed some outstanding food and entertainment. It was my first time at any event as an exhibitor… and we look forward to doing it again.
Now it's time to take the information learned during our travels and apply it to our services and products.  
Be sure to check out our latest research on the residential pool market including results from pool owner and builder studies.