The impact of pandemic restrictions significantly changed most households' daily lives, bringing phenomenal growth to the demand for new inground pool construction and sales of aboveground pools. Additionally, with most time spent at home, either working or remote learning, many homeowners focused on socializing outdoors and sought to improve and modify their existing outdoor entertaining spaces, including aging pools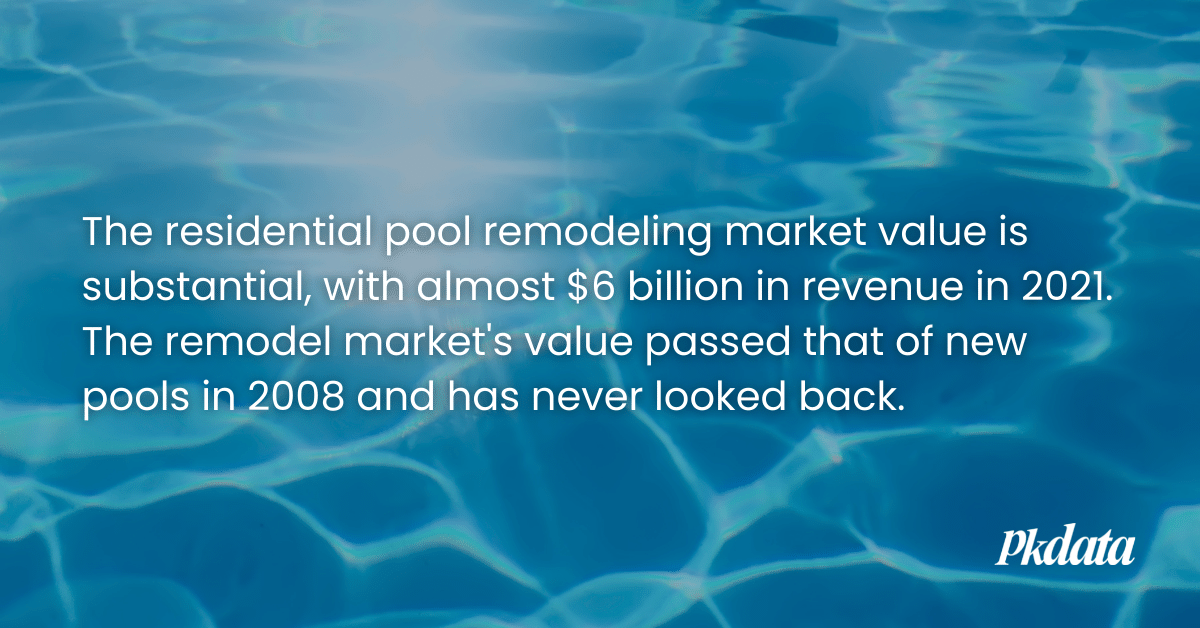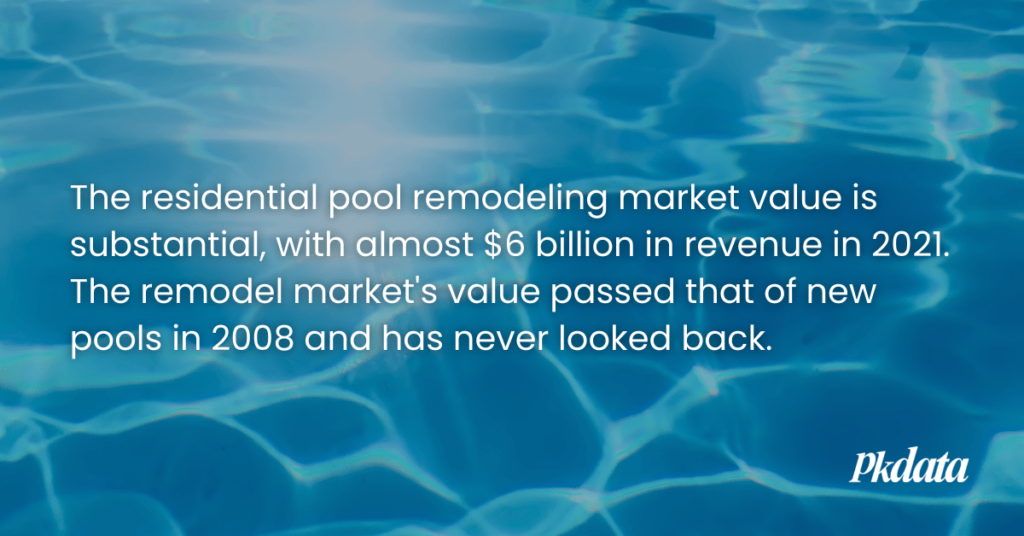 In Pkdata's most recent consumer research study, almost 40% of inground pool owners reported plans for pool renovations in the next three years, with their top projects including resurfacing gunite and backyard landscaping.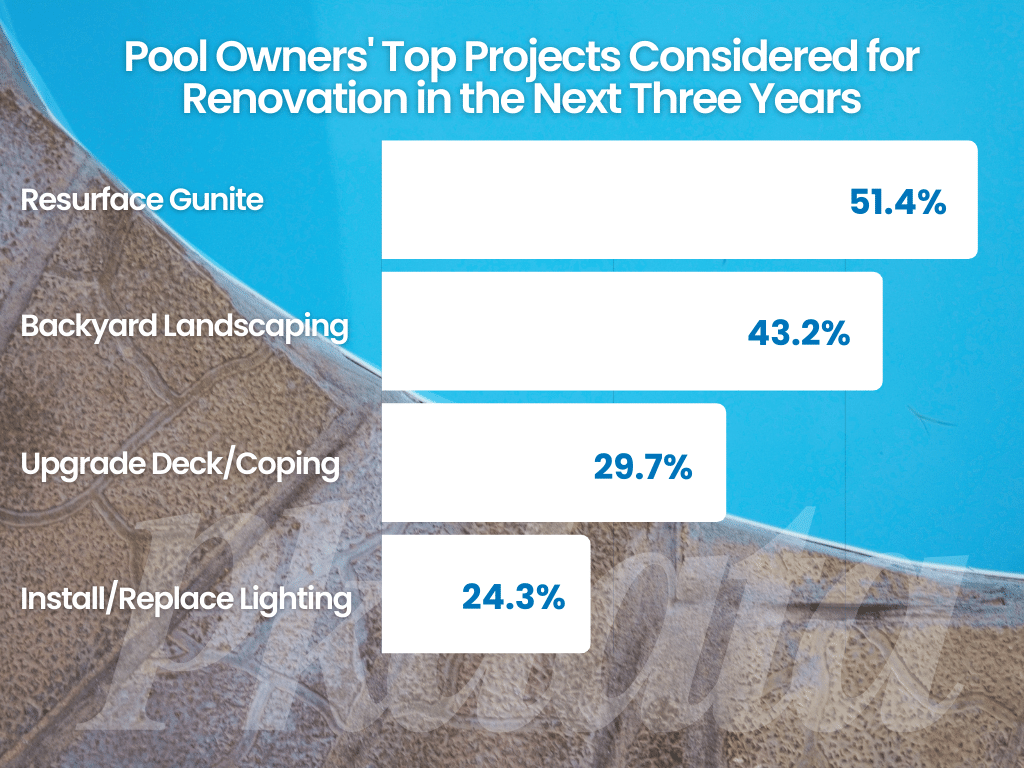 Updating older pools by refurbishing surfaces, including the pool walls and floor and the deck and coping, typically constitutes a substantial portion of remediation activity. Aging concrete pools need refacing of interior walls and floors, and vinyl pools require re-sheeting. In addition, all pools, regardless of construction, will need new pumps, filters, lighting replacement/upgrades, etc.
In 2021, the most popular renovation projects included replacing vinyl, upgrading and replacing the deck and coping, and resurfacing gunite.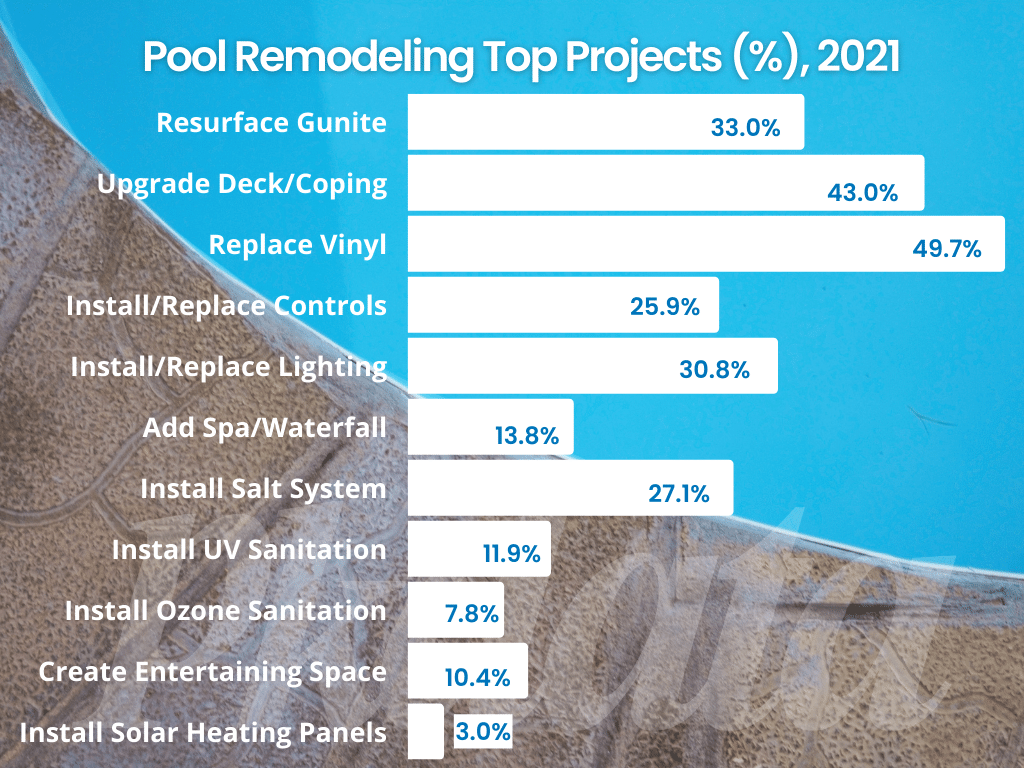 In many cases, pool owners also replace core equipment such as pumps, filters, and heaters during pool renovation and remodeling. Results of Pkdata's 2021 survey revealed that about half of homeowners replaced their pump and filter units in conjunction with their significant pool remodel or renovation project.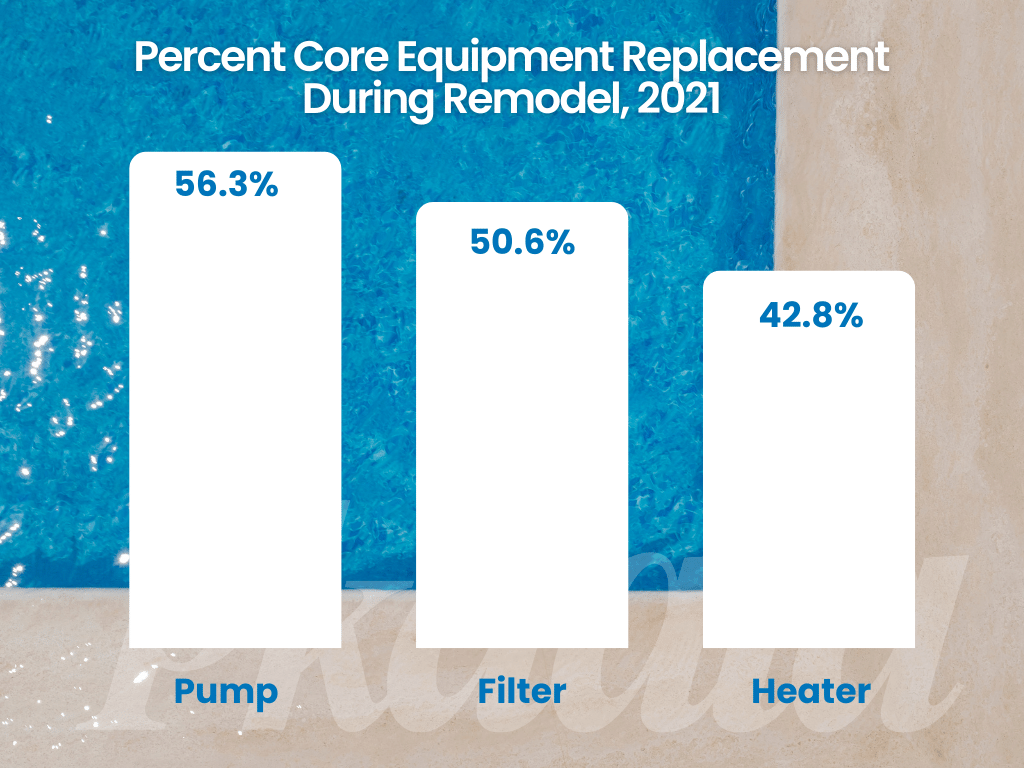 Pandemic Impact on Renovation
In 2021, renovation households were up, but there was an untapped potential that some builders could not meet due to demand increases in their new pool construction business.
Recent data released from Harvard's Joint Center for Housing Studies indicates continued strong growth in home improvement and maintenance expenditures in the fourth quarter of 2021 and maintaining a steady pace into 2022.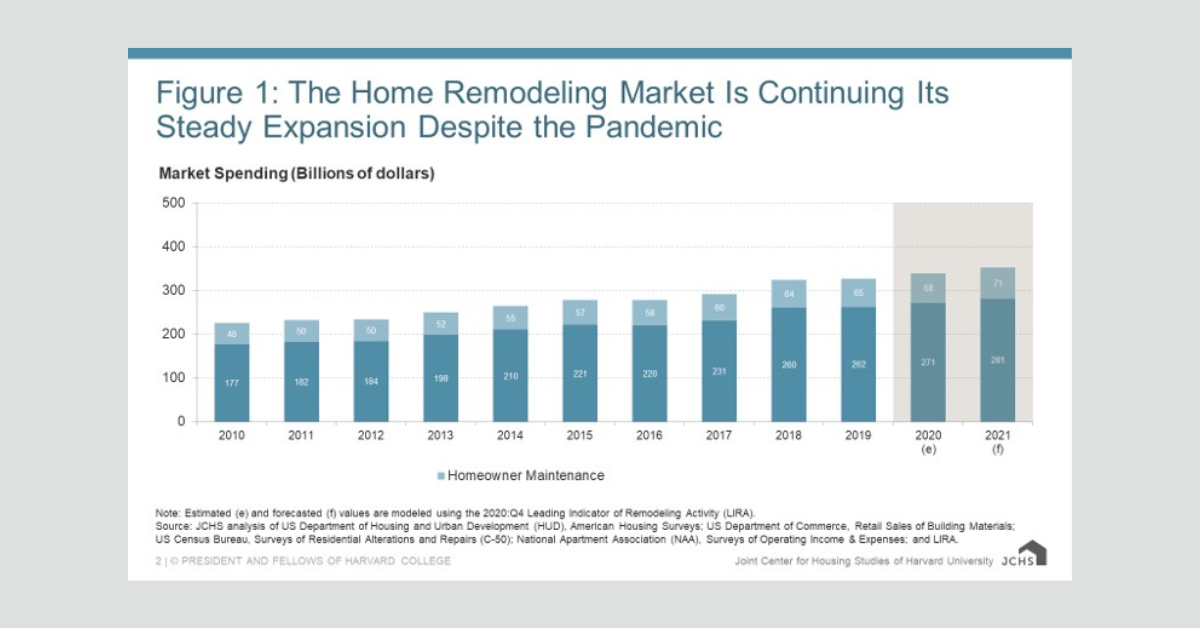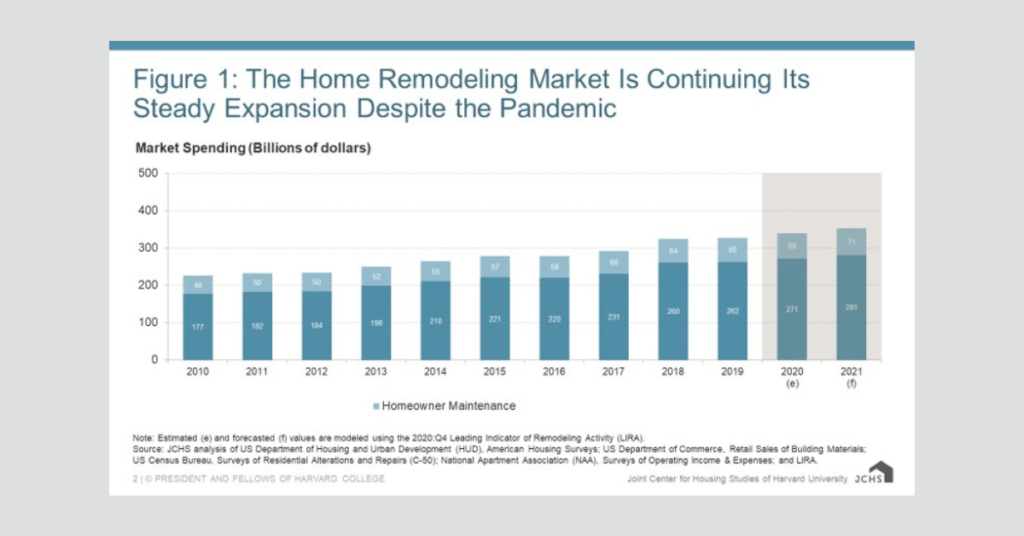 The Houzz Renovation Barometer, which tracks residential renovation market expectations, project backlogs, and recent activity among U.S businesses in the construction sector and the architectural and design services sector, recently reported intense activity through the end of 2021. "With steady increases in backlogs since the beginning of the pandemic, construction professionals in particular report wait times of nearly three months before new projects can begin."
According to Marine Sargsyan, Houzz senior economist, "We've seen some settling of home renovation and design activity following record high performance earlier in the year. Yet many businesses are struggling to catch up with heightened demand as they navigate supply chain challenges and labor availability, leading to record-long backlogs."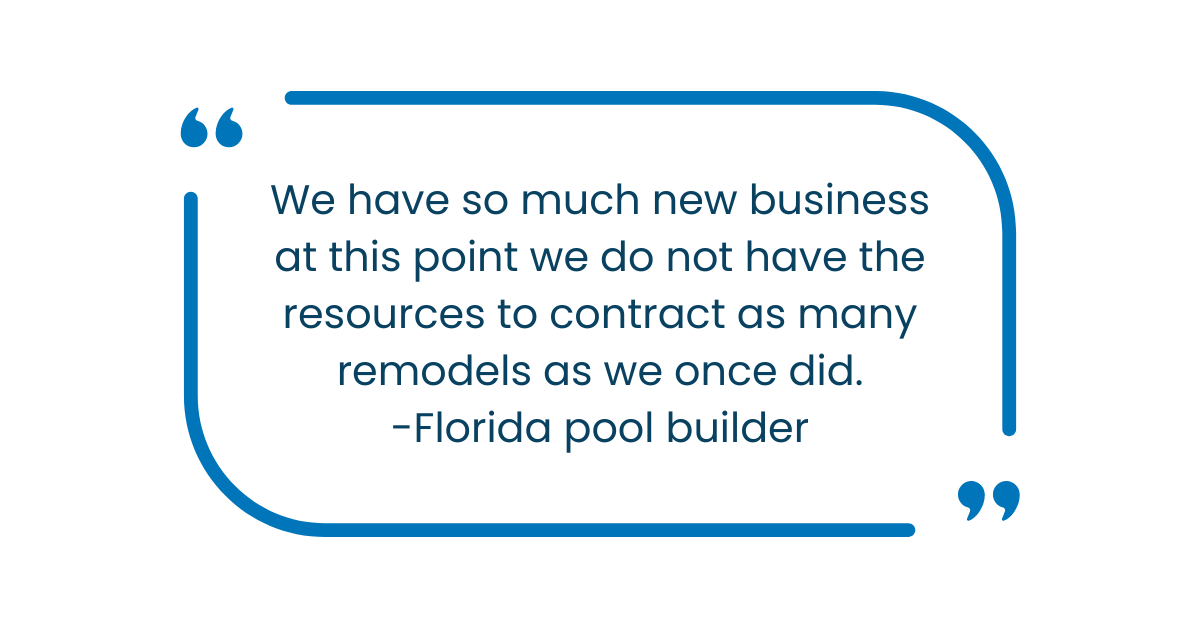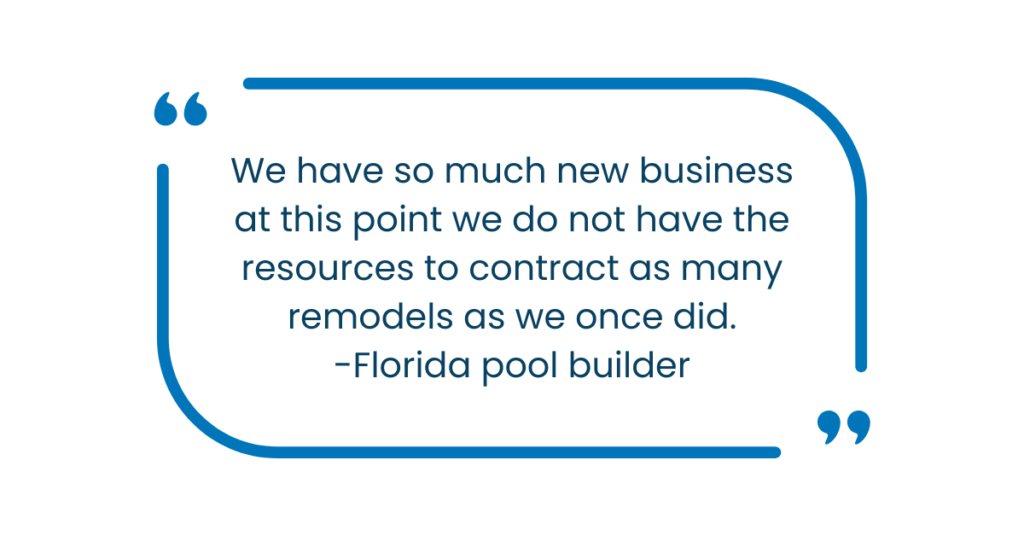 Demand for pool renovation remains strong, but pool owners will have to be patient with their projects. Construction timelines have doubled in some areas, as builders struggle with significant issues with the major construction segments: equipment, raw materials, and labor. Almost all experienced difficulty and delays in getting pool equipment, and more than three-quarters suffered shortages in the labor supply. And some builders have focused the majority of their resources on new pool construction.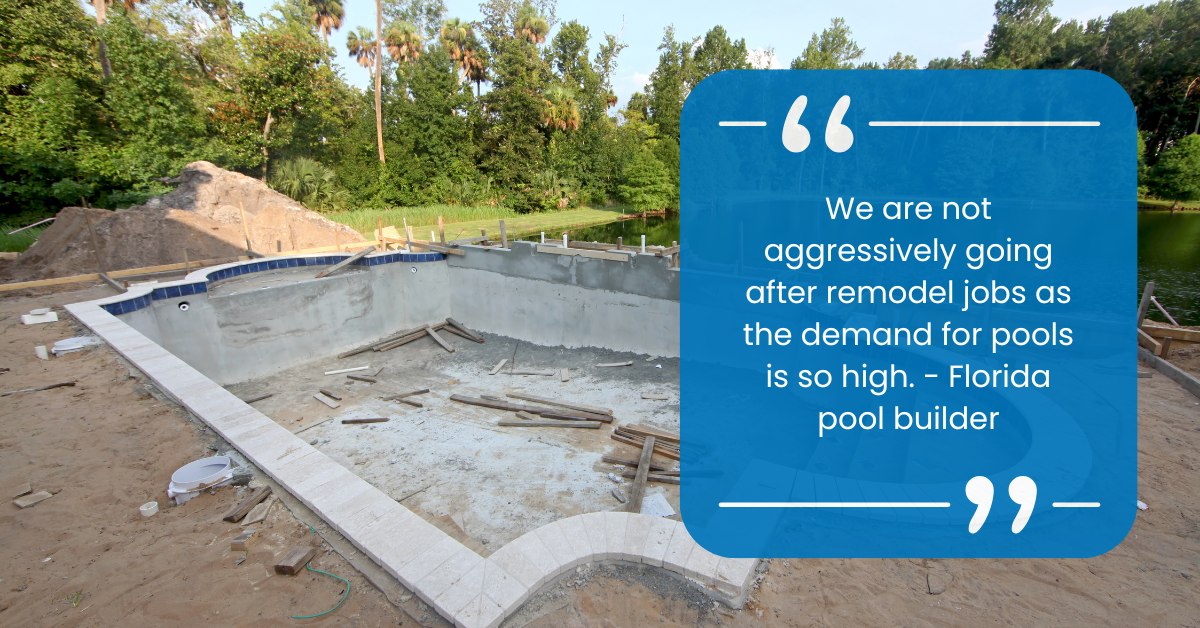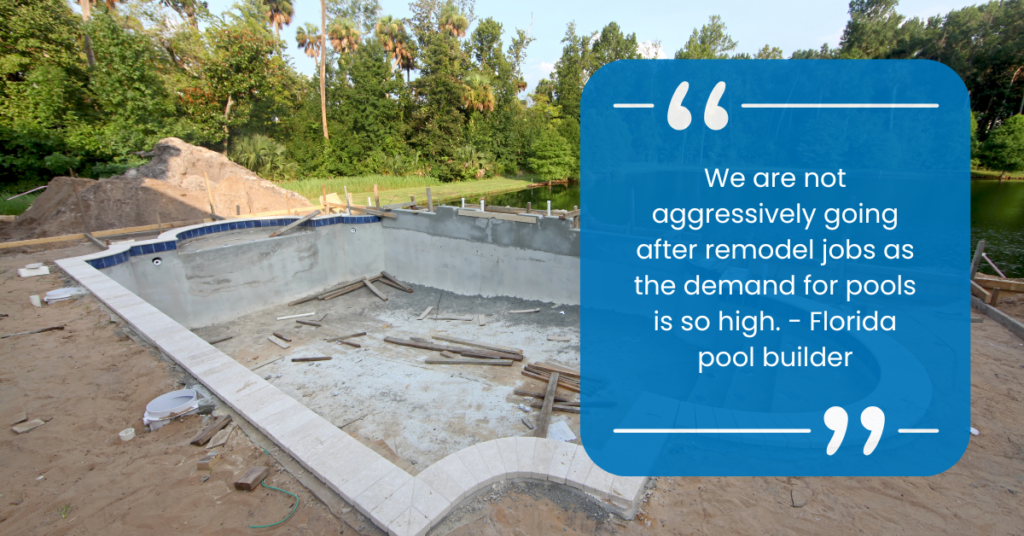 For more information on pool renovation and remodeling check out our latest U.S. Residential Swimming Pool Market Report (YE2021). The report provides a complete in-depth analysis of the lasting effect of the pandemic on the residential pool industry, as well as detailed data on recent in- and aboveground pool sales, the installed base, renovation and remodeling, historical trends, geographic information, state and local breakouts, industry valuation, economic drivers, and much more. In addition, new research with pool owners will give insight into pool utilization, chemical and equipment purchases, demographics, and satisfaction from the pool owner's perspective.